Line-up 2019 / Western Sand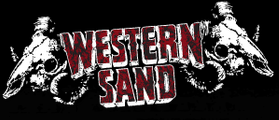 A four-piece, Southern inspired Hard Rock band, intending on putting Rock N' Roll and the South of England back on the map!
Since 2012, Western Sand has been rapidly building a reputation as one of the best and brightest young Hard Rock bands in the UK. Through persistent touring; the band have played over 400 shows during this time, and started to build up a loyal nationwide following. This relentless attitude, commitment and work ethic has led them to support high profile acts such as: Black Star Riders, Michael Schenker, Nazareth, GUN and Inglorious to name but a few.
Western Sand's distinct sound combines classic Southern Rock influences with a fresh and contemporary edge. This potent musical blend combined with their energetic and powerful live performances and two critically acclaimed EPs; is proving to be a hit with British rock fans across the country.